Aquarium Design & Maintenance Services
Aquarium Design Services
Magnificent Aquariums works hand in hand with decorators and architects to integrate not only the visual aspects of your custom designed aquarium but also minimize the impact the life-support system (filters, etc.) will have on your decor. Using a state-of-the-art high-efficiency filter system, we are able to create aquatic environments which are low maintenance and unobtrusive.

Artificial Reef
An artificial reef is a sculpted environment designed to look like a natural formation beneath the sea. This custom-made reef structure is designed specifically for your aquarium. You may choose the size, color and the realistic synthetic corals that are applied to the reef structure illustrating what the coral looked like in the ocean creating a living environment.

Living Reef
Spectacular fish decorated with colorful patterns are exciting to watch as they school across your aquarium. The most striking angel and butterfly fish is eye catching with distinct personalities that will flourish within an aquarium. The fish within this environment depend on you for their food, therefore, they become very sociable to humans and with time many of them can even be hand fed! 
Reef tanks offer a chance to view some of natures most marvelous sights. Among the most amazing are playful anemones, living corals, vibrant clams, and painted shrimp and crawling crabs. You will see an entire ecosystem happening before your eyes. Small crustaceans busily crawling along rocks and invertebrates that seem to dance along with the current are amazing to watch. The philosophy of a reef tank is to let nature take its course. 
Shark Lagoon
A shark lagoon is basically a saltwater pond built into the ground. It is called a lagoon because we use corals both real and artificial as the décor for the pond. The best way to build one is to pour concrete just like a swimming pool with the plumbing built in. Magnificent Aquariums works with pool companies to pour the concrete and than our firm does the rest. The lagoons can house sharks, stingrays and other interesting marine life. The lagoons (ponds) are exciting because they are vast in size allowing large and extra-large specimens to be comfortably housed.
Diagram
Magnificent Aquariums will provide you with a computerized diagram of the Life Support System. The diagram will enable your contractor to easily follow our specifications. For larger projects our design team works hand in hand with your architect and interior designer. The diagram being generated in a CAD program makes it easier to adjust or make design changes along the way.
Support and Electrical Requirements
After your aquarium dimensions are chosen an estimate of the total weight will be calculated and engineered if necessary. Magnificent Aquariums will provide you with a written electrical requirement packet as needed. This packet will include all information required for site installation.
Custom Cabinets
Magnificent Aquariums will build your custom cabinets, collaborate with interior designers, and work side by side with architects. We design, create and install Custom Aquariums for private residences, businesses, zoos and public exhibits.

Illustrations
Art is in the eye of the beholder…
Each custom aquarium is a living piece of art therefore, Magnificent Aquariums provides each client with an artists conceptual drawing of your aquarium and the environment that will surround you. Upon your final approval Magnificent Aquariums will begin construction of your living art environment.
Acqua Liana - Manalapan, Florida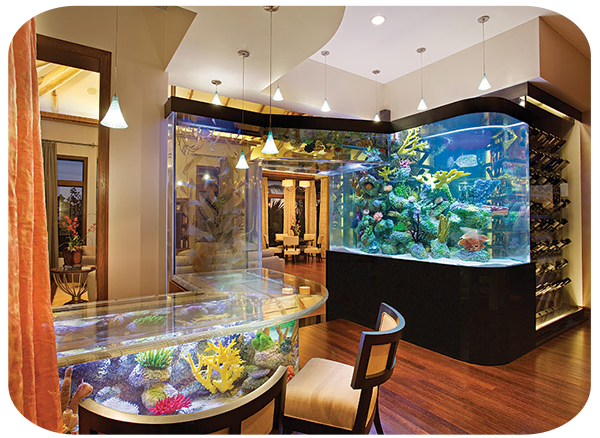 Custom Aquarium with Artificial Reef.
Life Support System (LSS) is the engine of a saltwater aquarium. It conditions the water and maintains water quality for the long-term survival of marine life. The equipment consist of a biological filter known as the Wet/Dry or Fluidized bed (converts ammonia produced by fish waste into a less toxic form called nitrate) Protein skimmer (removes unwanted organics from the water, A/C Chiller (maintains constant water temperature), Heater (maintains water temp) UV Lighting (helps decrease parasite outbreaks), High Volume Water Pumps (enables 3 X water turn over rate and 10X turn over rate for living reef aquariums), Cartridge Filter (Removes waste particles from the water) Reverse Osmosis (To replenish evaporated water).