Luxury Aquariums by Magnificent Aquariums – Have you ever dreamed about luxury aquariums and thought about purchasing one, then you have come to the right place. Here at Magnificent Aquariums we have a wide array of knowledge for anything and everything marine for your luxury aquariums. All of our high end custom fish tanks are one of a kind and designed for your setting whether residential or commercial. Let us help you choose the perfect custom fish tank and it will be sure to become the focal point of any home or business redefining the term luxury.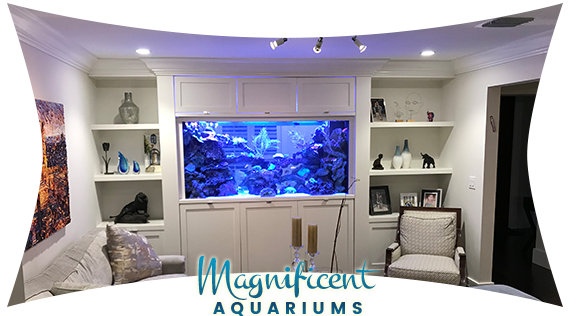 We assemble your custom aquarium from the highest quality materials, components and livestock. Our core service is creating custom high end aquariums but we also offer a fish tank maintenance service. All aquarium designs start out with a comprehensive three dimensional blueprint to ensure total accuracy for fitting in snuggly and without protruding. Each aquarium location is unique to meet the clients certain needs, our aquarium designer has over 25 years experience and specializes in public arena tanks. i.e. , Airports, Hotels, Restaurants, Schools, Doctors and Dentist offices and more.
All high end aquarium owners must decide what type of marine environment they prefer. With advances in marine biology almost any type of tank is imaginable. Shark Tanks, Reef Tanks, JellyFish Aquarium, Touch Tanks, Educational Tanks then you must decide architecturally where they will be installed. We have done bars, ceiling tanks, columns, coffee tables and many more. Our inhouse team of designers works closely with our cabinetry specialist to create to truly opulent over the top custom fish tank experience. We go above and beyond to exceed all of our clients expectations including the matching of the surrounding environment so that your new tank will be guaranteed to wow for many years to come.
In closing, all luxury fish tanks that we create at Magnificent Aquariums come with professional service from beginning to end. We will take your preliminary design concept and bring it to fruition through our superior craftsmanship making you an aquatic masterpiece for any property whether residential or commercial. 
Start designing your next living work of art call today. 954-818-1799
Check out some of our YouTube videos.
Luxury Aquariums