Magnificent Aquariums designs luxury fish tanks and also offers the ultimate Fish Tank Service for complex and over the top aquariums that require that extra attention.  We use an all around approach for our Fish Tank Service plans that deliver the highest level of maintenance for home and business aquariums of any size.  Our Fish Tank Service includes installing, maintaining and moving your aquarium if necessary.
Scheduling an initial consultation will help our fish tank service experts better determine your aquarium requirements.  Our dedicated staff can then outline a recommended frequency for your fish tank service schedule. On each and every visit our tropical fish tank connoisseurs will delicately care for your fish and their environment. We provide a thorough visual inspection and perform a water quality analysis that identifies any water quality issues.  Correcting water quality issues is paramount to providing a healthy and stable marine environment that will keep your tropical fish and their salt water companions thriving.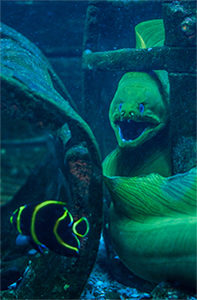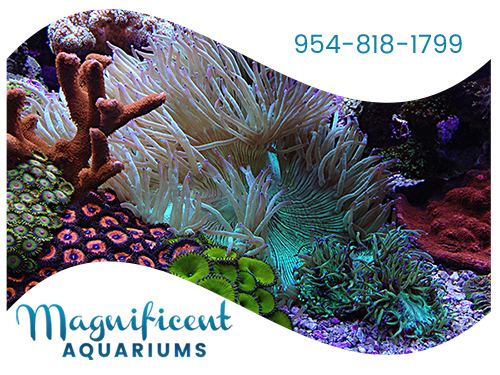 At Magnificent Aquariums, glass and acrylic surfaces are thoroughly cleaned along with inspecting filters and media with our Fish Tank Service.  Expired filters and dirty media must be replaced immediately as dirty water is a surefire recipe for a tank disaster.  Water changes are scheduled for the best tank health but can be performed anytime if the water quality analysis determines that something is not right.  Changing salt water is imperative for removing surplus waste.  This permits your saltwater aquarium to maintain stable water parameters for the most healthy marine life.
We have been creating and installing Luxury Fish Tanks and Custom Aquariums for almost 30 years.  Our experience and knowledge were gained through many years of working with many different styles and architectures.  We know what will work and won't work – tell us your ideas and thoughts for any custom aquarium design.  Some of our tanks have been featured nationally on TV and in magazines like Unique Homes & Eluxe Magazine.  Every one of our luxury fish tanks and custom aquariums is created for long term use and ease of maintenance with a care strategy that will keep your marine environment thriving for years to come.
Our fish tank service will assist with all aquarium maintenance that includes tank cleaning, water testing, water changes, tops offs, feeding and overall tank health.
Clean filter and protein skimmer
Partial water change with clean sea water
Test water chemistry and adjust as necessary
Examine the fish for any sign of disease
Inspect the plumbing and piping
Clean the inside and outside of aquarium glass
Report all findings to the owner
Call today if you have any questions about our Fish Tank Service or Custom Aquarium design.
Fish Tank Service