Magnificent Aquariums a South Florida pioneer for custom fish tanks for over twenty five years. We have carved a niche for providing custom fish tanks for a variety of purposes from education, zoos, restaurants, businesses, hotels, airports and luxury residential aquariums. We design and fabricate custom fish tanks with a focus on the attention to the smallest details and according to the clients demands. High quality, quick turnaround time, affordable pricing and complete customer satisfaction are what Magnificent Aquariums are known for.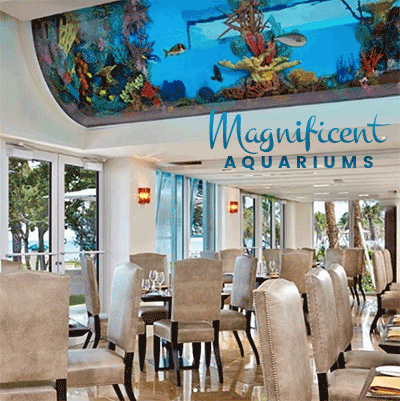 We do not use middleman for your custom fish tanks, we are the designer, builder for all of our aquarium projects. Every custom fish tank is one of a kind and  built to order one at a time by our experienced craftsman. We use only the highest quality materials for the construction of your aquarium. You can get a good idea of some of our work by viewing some of our portfolio and video gallery. We never purchase inferior materials ensuring a long lasting lifetime for your custom aquarium. Trying to save money on aquarium materials is a surefire recipe for shortening the life of your tank.
Magnificent Aquariums established their solid reputation by consistently delivering custom fish tanks that met or exceeded the customers demands. Good ol fashioned work ethic is the common theme for all of our custom aquariums. Call today to find out more about how we can help with your next aquarium project. We can answer any questions and let you know if something is not doable or economically feasible. 
We just don't build the aquariums but we also offer everything you would need to keep your tank up and going in optimal condition. From stocking the tanks with precious and healthy fish to full construction from the initial concept and design to the finished product. Some tanks require specialty cabinetry, heavy duty steel support frames, rockwork, artificial reef inserts, refugiums, ultraviolet sterilizers, lights, chillers, heaters, protein skimmers, chemical filters, mechanical filters, and a wide variety of aquarium pumps.
Custom Fish Tanks
Luxury Aquariums Video