Have you ever wondered what it takes to have a Custom Aquarium? Magnificent Aquariums is one of the top builders of luxury custom aquariums in the United States. A custom aquarium by Magnificent Aquariums is second to none for many reasons. First of all, we are led by a devotee of everything marine and the aquatic life within. Bryan Ehlers studied Marine Biology at FAU in beautiful Boca Raton in the early 80's. Since then he has traversed the globe studying marine life. We have learned what it takes to source and how best to keep the most exotic fish in your own personal custom aquarium.
The staff at Magnificent Aquariums all have extensive experience with tropical fish, living reef tanks and many things beautiful from the ocean. When you get a custom aquarium from us it is designed together with you to create your ideal world of wonder. We will let you know if your design concept is acceptable or if it is out of bounds. Caring for custom aquariums and their occupants is of the utmost concern. After your custom aquarium is designed we will take care of it for as long as you like. Our fish tank maintenance service is proven and designed to exactly mimic any type of marine life you desire for your custom aquarium.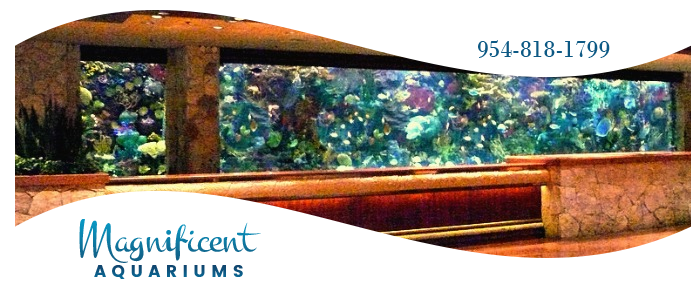 Although we are based in South Florida, our custom aquariums are featured all over the United States. Educational centers use our learning tanks and touch tanks to teach the exciting wonders of the world below. Featured at zoos and exhibition halls for everyone to enjoy. We also specialize in Restaurant Aquarium design and any type of custom luxury aquarium. When you need that extra oomph our upscale tanks and fish tank service will provide an envied level of desire.
Call today to find out how we can help you design the perfect custom aquariums for your home or business. We design Luxury fish tanks for those who require that extra special touch and care.
Custom Aquarium
Check out some cool fish tank videos.
Related Blog Articles